In 1993 I was pleased to welcome as members to the Volunteers of God two dynamic women, Francine Durand and Marie-Blanche Bissonnette. They were attracted by the mission of the Volunteers which is based on the 5 attitudes of life.
Twenty-five years have gone by since then. On September 10, 2018, the Volunteers in La Tuque were proud to celebrate the perseverance of these two committed women.
It was my pleasure to be present and to honor them for their fruitful journeys.
Francine Durand, a woman of challenge and action accepted to collaborate with the animation of the team of Volunteers after my departure from La Tuque in 1996, a task she carried out with generosity for 12 years, enhanced by her artistic talent. Tenacious and graced with a positive attitude, she got involved in various venues sowing joy and peace around her.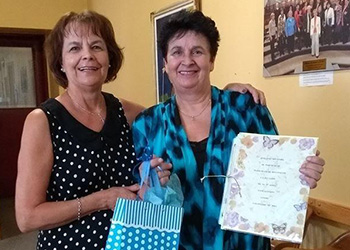 Marie-Blanche Bissonnette was appreciated by the Volunteer group for her talent as singer and guitarist. She brought cheer and freshness to the meetings. Also, she is dedicated to helping the elderly and entertains in residences and at the hospital.
I was honored to present them with a souvenir album highlighting their contributions to their milieux as Volunteers of God. Happy 25th anniversary to both of you.
Réjeanne Allard, Reference Contact
Trois-Rivières Sector
Group Volunteers of God