The Oblate Missionaries extraordinary people.
This day of the 70th anniversary of the Oblate Missionaries of Mary Immaculate and the Volunteers brought me a lot and did me a lot of good. I forgot the pandemic. The words of Bishop Laliberté and the beautiful songs of Violaine and Denise created joy and inner peace in me. The meal allowed me to meet extraordinary people, with radiant faces, who spread so much joy and love around them.
They are truly people of service who live to help others, listen to them and make them happy. The video gave me a lot of information about the remarkable work done over the years.
Thank you and congratulations to the organizers for this day which will leave an unforgettable memory in our hearts.
Denise Binette, Volunteers of God of La Tuque


Magnificat !
What beautiful memories came back to my heart on this anniversary.

So many reasons to say THANK YOU! It is with a heart full of gratitude that I write this message requested by Réjeanne, the great instigator of my presence among the Volunteers of God.

First of all, I owe this thanks to Father Parent. I met him a few times and was always edified by his simplicity, but this simplicity hid an exceptional greatness of soul. The five points have been part of my life for 35 years... and I try to apply them every day. Some days it is easier than others, but with the Presence of God it helps a lot!

My second THANK YOU is to Réjeanne Allard, this positive and radiant woman who invited me one day. With joy, I said YES and I am so grateful to her. What a beautiful secret she allowed me to discover!

THANK YOU to the wonderful team that allowed us to gather at the Sanctuary. To meet over a lovely meal allowed our spirits to recharge, and Violaine sang so well, "LOVE has a THOUSAND AND ONE Faces that GOD in his image comes to deposit in us like dew, like a breeze on a summer's day...ˮ.

What a beautiful breeze of love we felt! I feel like Mary wanting to sing "MAGNIFICAT my heart exults with joy! ˮ

Congratulations to you all on your 70th anniversary,
Diane Pichette,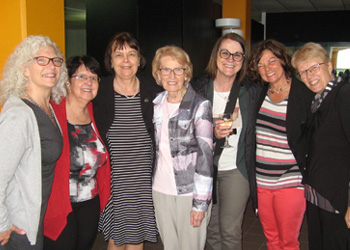 Volunteers of God, La Tuque