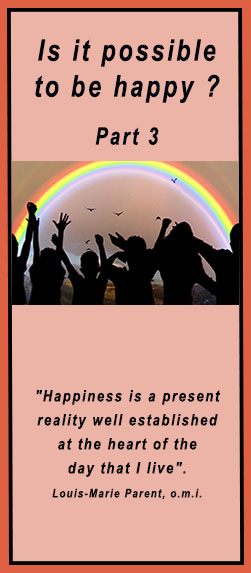 3- Happiness and selfishness.

Discovering one's qualities in order to be of service to others is the great vocation of the reasonable adults. Basically, maturity is simply an awareness of the qualities with which we are gifted and the courage to live them out for the benefit of the community in which we are integrated.

Happiness brings us closer to others. Happiness creates a spirit of peace, simplicity and fraternity.

What keeps me from loving other people, enjoying life, enjoying my workplace?

What prevents me from being understanding, from listening to others, from being aware of the situations I am going through?

What can be an obstacle to my relationship with others if I try to respect them, if I don't oblige them to change, if I accept their pace, if I don't try controlling them?

Happiness is food, daily nutrition, it is food made up of a thousand and one little things at the right time: a little love, understanding, tenderness, courage, hard work and initiative.

It is today that I radiate happiness; it is today that I savor its sweetness and witness to it according to the quality of my presence.
Read also: Is it possible to be happy ? (1)
Read also: Is it possible to be happy ? (2)



From the Volunteers of God Collection: "Is it possible to be happy?"
Group associated with the Secular Institute: The Oblate Missionaries of Mary Immaculate, Louis-Marie Parent, o.m.i.