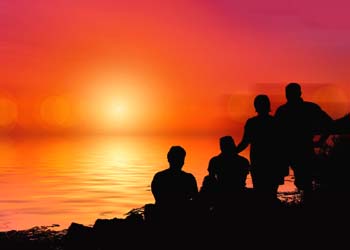 To devote five minutes a day to reflection, to set a goal in life, we need to follow the example of the obese person who submits to a certain discipline in order to lose weight.

Is it possible for five minutes a day to change a human being's life? It's hard to believe. In our century of feverish agitation, we spread ourselves too thin, waste too much time improvising, and have no time to reflect. And yet, we still meet people who don'tseem to be in a rush; they seem to have time to give.

Five minutes isn't much, but it would be enough if you implemented it every day at around the same time. It's a discipline that will help clarify your daily objectives and avoid wasting time.

Courage grafted onto God's qualities liberates man, makes him self-reliant and develops in him a spirit of acceptance and sharing. Courage becomes an inner drive to seek the truth, to accept it unconditionally, to build peace and to deploy strength without aggression or violence. Let's call on courage and start changing today.
Personal reflections for growth
1. Do you think five minutes of reflection every day can change your life?
2. Can you name a few goals you've achieved in your life?
3. Have you ever had to take risks? Which ones?
4. What's an example of courage?
Excerpt from the "Collection Volontaires de Dieu": Do you want to change your life? Father Louis-Marie Parent, O.M.I.