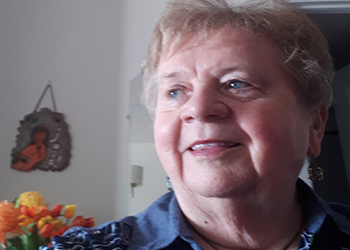 After a four-year wait, I received a call informing me that I would be operated on for arthrodesis on November 5 at the Hôtel-Dieu in Quebec. What a touching sign of His presence! I had been told earlier to expect wait of 4 to 6 months - and this, despite the pandemic. I was heading into the unknown; I had no idea how this experience was going to turn out...
For several years now, a hymn from the Divine Office1 has challenged me and invited me to abandon the unfolding of the events to come into the hands of the Father. My convalescence at Maison Niverville residence allowed me to live the following experience of abandonment that I share with you.
Accepting to depend totally on others for all my needs whatever they may be: accepting my weaknesses and my limitations, abandoning myself in trust became my day-to-day response. This attitude allowed me to take a new look at my environment and the people who worked there, especially in regard to the support personnel. This openness to "the other" shed light on what I saw on a daily basis: dedicated persons fulfilling a beautiful mission in relation to the vulnerable. Whenever possible, I thanked them. All this, for me, became signs of his Presence.
How could I witness to being a responsible presence in this environment with all these people?

From the time of my I arrival I warmly greeted all personnel who entered my room because, in my heart, I knew each was exercising a real ministry. I personalized my greetings by giving each one a nickname: Ray of Sunshine, Radiant Smile, Quiet Presence, Compassion Lady/Guy, Peacemaker and Gentle Harmony, etc… Before my departure, one of them came to thank me: "You know, your way of welcoming me gave me self-confidence and stimulated me to do my job better."

This new perspective allowed me to see so much attentiveness; small gestures that brightened our days. I witnessed their patience as well as their skill in dealing with demanding, uncooperative residents and convalescents. In the residence, the diversity of ethnicities among the support personnel sends a very strong message: openness to differences, unconditional acceptance of the other… What a beautiful Gospel message! At every opportunity I pointed out this richness to the residents, the convalescents and the personnel.

I wanted to do my part in welcoming these newcomers and immigrants, especially the Latinos. I wanted them to feel heard, understood, loved and supported. Whenever I could, I answered their questions or listened to their concerns. On occasion, during break-time, one would arrive with French words written in the palm of their hand asking for the meaning or ask me how to frame a question in French. I felt I was a participant in their integration among us!

With African women among the personnel, I could easily draw a parallel: as a missionary in my younger days I cradled little African babies in my arms. At the age of 77, it was now two African women who bathed me and supported me as I walked – an example of life coming full circle which they enjoyed hearing about.

During my stay I observed the positive strengths of the functioning of the residence but there were flaws as well. These question me. As a responsible citizen, what can I do about these to assure that our seniors who reside there live in an atmosphere of calm, security and harmony? May the Spirit inspire me in discerning the signs of his Presence in my search for an appropriate response.

Céline G, Trois-Rivières
March 2021
[1] «Un jour nouveau commence», hymne de Laudes, du deuxième lundi de l'année liturgique.
.