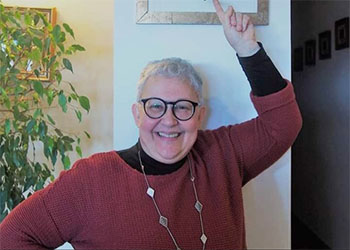 As an Oblate Missionary of Mary Immaculate, I ascribe to what Father Parent, our founder, has said, "The oblate must be all things to all people."
She is open to all milieus and is destined by vocation to go "everywhere Christ has rights." For us Oblates it is important to witness through our daily life. We are not called to talk about God but to live the Gospel; doing so draws us close to the people – it is our way of evangelizing the world. Accordingly, I begin with my family, my friends, my parish community and all those people God puts on my path each day.

We have a precious treasure in our spirituality – that is the invitation to live the present moment. From day to day it allows me to start afresh living with love and through love.
What is my motivation? It is a debt of gratitude to God, who, in Lourdes in 1988, called me to conversion. Since that moment, my life has taken on a missionary thrust, in particular in relation to youth, who, in my estimation, is the category of the poorest and neediest of our time.
In Calabria, the southern-most region of Italy, I collaborate and work alongside the Oblate Fathers. During a presence of almost 12 years, we have carried out 35 popular missions in which I was involved with youth through a specific and direct evangelization.

As Pope Francis has said, "…we must open the doors of churches to reach the peripheries of existence."
Graziella F.