The Dominican Republic
The testimony of a work colleague, Maximo de la Rosa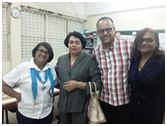 Udelca is a petite woman, full of joy. Her presence at our Panamerican Union High School was a witnessing of dignity, of putting God first. She modestly assumed the direction of our institute for two years. She overcame many obstacles. She was true to and respectful of our institution. She manifested commitment and serenity in her decision-making bearing in mind workstandards and fraternal action.
Her conviction of responding to a mission kept her grounded without being distracted like a false prophet.
She has left a legacy of dignity. She will continue to go forward and will continue to surpass herself.
---------------------------------------------
I wanted my colleague to express his opinion because that is how we gage what we do and the value of our witnessing as viewed by others.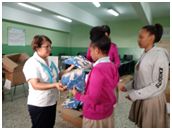 These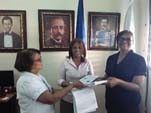 words of my colleague, Maximo, made me think and reflect. Each instant of our lives is a treasure to be lived from day to day regarding the past as pure experience that helps me to grow personally and spiritually.
The strength of prayer, in presenting my actions to God, greatly helped me in my commitment while keeping in mind my charism and my state of life. I thought only of moving forward and of giving the best of myself without looking for any return, trusting and certain that everything could be possible. I felt strongly that the Lord was with me. For me, it was simply a service I was called to carry out without complaining.

Udelca M. March, 2020