Items filtered by date: May 2019
Saturday, 22 June 2019 12:17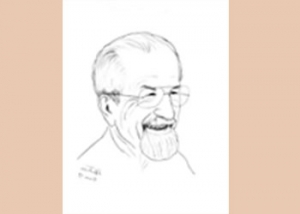 Friday, May 17, we celebrated the anniversary of Father Parent's birth in his new Life with God, an opportunity for a heart-warming event at Cap-de-la-Madeleine.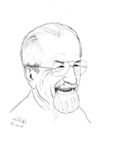 Following a celebration of the Eucharist with prayer, music, singing and witnessing unfolding in an atmosphere of joy and interiority, we gathered for lunch at the Madone.
It was a moment of rich fraternal encounters: the time to share stories between ourselves, to notice more heads crowned with silver but hearts were light, the tendency to tease alive and well and the chatting spontaneous.
The encounters unfolded in an atmosphere of simplicity and fraternity.
The meal ended with a liqueur served in the form of an upbeat speech by Denise, our President.
There followed the visioning of a video featuring Father Parent. His spontaneity, humor and depth clearly reflected the man as he was known and appreciated by all.
We extend our thanks to those who made this joyful, relaxed event take place.
We hope to experience such events again in the future
Photos memories: http://www.ommi-is.org/en/multimedia/photo-gallery
Lucile A.

Saturday, 22 June 2019 11:46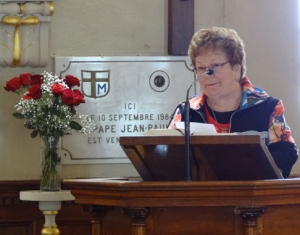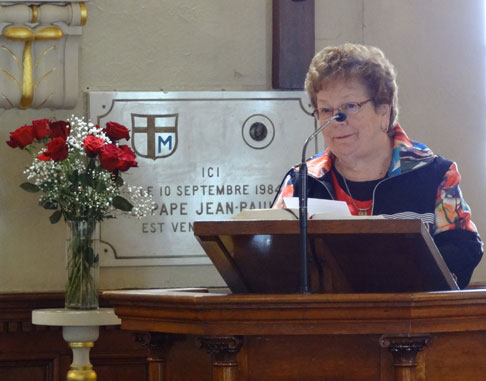 The Welcome Address
Welcome to the celebrant, Father James Dunstan, Director General of the Voluntas Dei.
Welcome to the concelebrants, Bishop Pierre-Olivier Tremblay, Auxiliary Bishop of the Diocese of Trois-Rivières, and to Father Luc Tardif, OMI, and Provincial of the Notre-Dame-du-Cap Oblate Province. Welcome to the Voluntas, Father Yvon Carpentier, the Laroche brothers, Mario, Marc and Michel and Father René Désilets. Welcome to the Oblates of North America and to the Volunteers of God. The Oblates and Voluntas from other countries are surely united to us in thought and prayer at this time. Welcome to all present who regularly attend mass here as well as to the pilgrims among us today.
May 17, ten years ago, Father Parent, Oblate, founder of our Institutes the Oblate Missionaries of Mary Immaculate and the Voluntas Dei, left us to reap his eternal reward. Ten years later, we remember this man and are always grateful for his bequeath to our two Institutes and the Associate Group, the Volunteers of God, for the gift of a very concrete spirituality.
This spirituality allows us to live a mission of Love, unconditional love of every one, nourished by a life of prayer and charity in action sustained by gospel values. These choice attitudes are the presence of God, absence of destructive criticism, absence of useless complaint, being of service for others and being a peacemaker. All the events in our immediate environment and beyond incite us to live these attitudes.

Our Eucharistic celebration is our response of remembrance and gratitude to this spiritual heritage that enables each of us to live our vocation of consecrated men and women, involved in the Church, and to be in the midst of the world with a heart like that of God.

Let us give thanks for this simple dynamic spirituality, which is accessible and beneficial to all people of good will.
We are the guardians of this spirituality. It is our joy to live and pass on with simplicity this gift we have received gratuitously.
Enjoy the celebration!

Photos memories: http://www.ommi-is.org/en/multimedia/photo-gallery
Denise Desrochers, President
Sanctuary of Our Lady of the Cape
May 17, 2019