Friday, May 17, we celebrated the anniversary of Father Parent's birth in his new Life with God, an opportunity for a heart-warming event at Cap-de-la-Madeleine.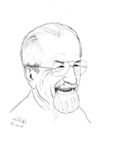 Following a celebration of the Eucharist with prayer, music, singing and witnessing unfolding in an atmosphere of joy and interiority, we gathered for lunch at the Madone.
It was a moment of rich fraternal encounters: the time to share stories between ourselves, to notice more heads crowned with silver but hearts were light, the tendency to tease alive and well and the chatting spontaneous.
The encounters unfolded in an atmosphere of simplicity and fraternity.
The meal ended with a liqueur served in the form of an upbeat speech by Denise, our President.
There followed the visioning of a video featuring Father Parent. His spontaneity, humor and depth clearly reflected the man as he was known and appreciated by all.
We extend our thanks to those who made this joyful, relaxed event take place.
We hope to experience such events again in the future
Photos memories: http://www.ommi-is.org/en/multimedia/photo-gallery
Lucile A.