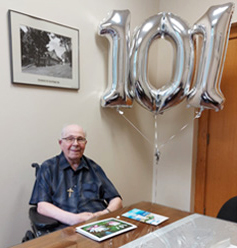 Following the centenary celebration of Fr. Roger Gauthier last year, we are fortunate to mark his 101st birthday this year.
He remains the smiling, welcoming, serene man with a heart full of love. Paralysis of his entire right side keeps him in a wheelchair, but he is still present and attentive to others.
In 1957, Father Parent asked him to produce a brochure on the spirituality of the Oblates. He puts his whole heart, his faith and his intelligence into it.
Over the years, he has helped many Oblates in their journey of faith and he still does so when we visit him, even with the limitations of what he calls "his handicap". His sense of humor, his listening skills and his wisdom inspire us. From him we learn "the grace of aging" as one of his publications is titled; a book which depicts an authentic model of fertile aging. Criticism and complaint are not part of his daily life and he never ceases to marvel at all that life gives him from day to day.
Over the years, Fr. Gauthier has preached numerous retreats and given conferences to the Oblates; as well, he produced a series of Study Circles. To this were added retreats to religious communities, sessions for couples, retreats on the Spiritual Exercises of St. Ignatius then the Exercises in everyday life, mainly for the laity.
He told us last week that every day he likes to review various paths in his life. Every day, too, he includes us in the Eucharistic celebration.
What a man of God, of heart and of light!
May he stay with us for a long time to come.
Jeannine G.
St-Jean-sur-Richelieu