Items filtered by date: July 2020
Wednesday, 26 August 2020 12:06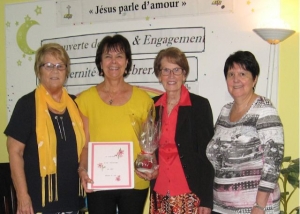 Réjeanne Allard paid tribute to the leader of the group of the Volunteers of
La Tuque, Quebec, for its 25 years of loyalty.
Who is this person in charge of this group of Volunteers?
It's none other than Lise Defoy.
She is a person with a missionary heart, gifted with caring and kindness.
Over many years she was for her students a warm and welcoming educator with a compassionate heart.
She is a woman of heart; service is another of her strengths.
She is the mother of Mélanie and Maude.
She joined the group of Volunteers in 1994.
She brought her positive spirit to the group and, in 1996, became part of the animation team
with Suzelle Doucet and Francine Durand.
As they were convinced of the seriousness of spirituality, they invited other people to join the group.
For them, sharing the 5 life attitudes through their everyday life is a priority, thus, they live the mission
of the Volunteers which is:

"To live the love of Christ everywhere in the present moment."


In light of such dedication over all these years, Lise, with her current collaborators,
Nicole Picard and Denise Binette, has prepared this celebration of thanksgiving.
Now it's with the whole team that we sing:

How beautiful are your works
How great are your works
Lord, Lord, you fill us with joy!