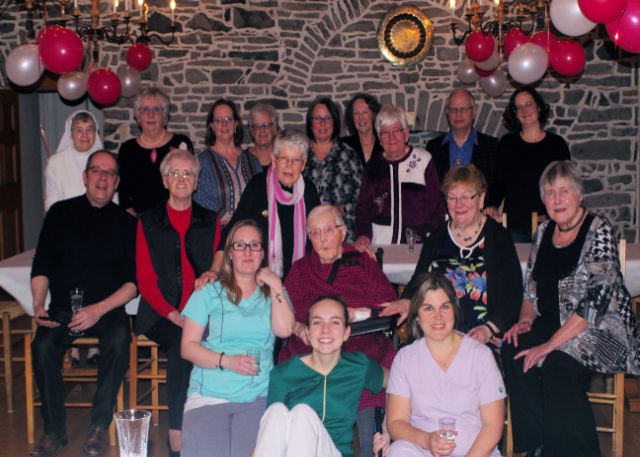 An important event took place in our region of America North-East. Cécile Côté's hundredth birthday

A hundred years calls for a celebration
Celebrating the hundredth birthday of one of the pioneer Oblate Missionaries of Mary Immaculate was a joyful event for Cécile's family, the Oblates, the Augustinians, the employees and Father Julien Campagnat, a close friend of the family. It was a niece, Louise, and her husband, Rémi Piché, who brought us together January 11, 2020, six dates before the actual birthday date.

We were welcomed at the Monastery of the Augustinians by family members including Louise's daughter, Mégan and her little daughter Mia, who led us to the Frontenac Room and made us feel at home.

We expressed with simplicity how Cécile had been loved by all and in all the milieus where she carried out her mission. We were unanimous in describing her unconditional love, her competence as a nurse (the inhabitants of the Magdalene Islands referred to her as their doctor), her joy, her tenacity, her prayer of supplication, her trust and the peace she radiated.

Cécile was visibly moved by the presence of our President, Denise Desrochers. With her usual polished skill and simplicity, Denise expressed a warm tribute to our jubilarian, a founding member of the Institute and missionary with a heart of fire, highlighting her audacious faith and her constant availability.

Those who knew her well can tell facts and stories about her many involvements.

Her niece Louise, who organized the celebration, told of her devotion to her aunt in the following terms: "I had the privilege at various times of being in touch with Aunt Cécile during her years at Neuville and St-Augustin-de-Desmaures, in the company of her brother, Émile, but more particularly between her two missions abroad, when she would touch down for a period of rest and to visit with her loving family. I have fond memories of these moments.

Since my early childhood she inspired me by her dedication, her tenacity, her capacity to learn and to adapt. She was before her time, always up-to-date, fearless and a go-getter, able to evolve in a world of constant change.

Her studies in education, nursing and psychiatry proved to be valued assets, allowing her to face up to the worse and appreciate the best. Having grown up one of 14 children on a farm with theparents and grand-parents, relationship, sharing and mutual help were part of her DNA.

What she accomplished in a century of life is impressive. She worked amongst the underprivileged in conditions that, at times, were hard. She would tell stories of her missionary life with the fireof one who was committed and happy with her calling. She was where she belonged.

She left her print on the roads of the world and in the memory of those with whom she rubbed shoulders.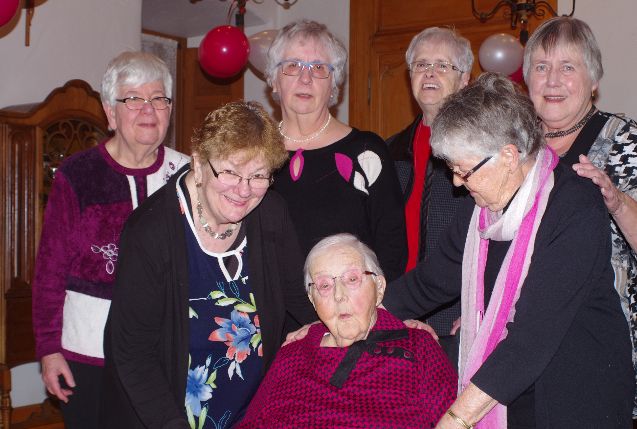 Let us celebrate the hundred years of the woman she has been and remains in her head andheart and will always remain in our heads and hearts."

The tribute continues with Martine Poulin expressing the gratitude the Haitians hold for Cécile.

I personally got to know Cécile through the witnessing of others as expressed by simple people. In 1956, Cécile was sent to Haiti as a missionary. She arrived at Tiburon, a small village at the southern tip of the island in October. She is thefirst nurse to work at that dispensary.

Ten years later, I was sent to Tiburon. The people still remembered Mademoiselle Cécile and ask about her. These are the comments Iheard: she was very competent, she knew how to treat her clients and her prayer was very powerful. Through herprayer she healedthe sickthat could not be healed by medication alone. (According to popular belief, these illnesses were attributed to evil spells.)

This beautiful witnessing I heard many times over! The people had perceived spiritual strengthin her. In 2010, after the earthquake, I returned to Tiburon for a visit and, still, people who had known her asked about her. Congratulations, Cécile, you were a witness. Thank you.

The celebration continued in joy around the sharing of food and a birthday cake. Gathered around our jubilarian we were of one heart as we watched herblow out the candles; engaged in the moment we forgot to take a photo.

In response to my message of congratulations to Louise for the success of the celebration, Louise wrote, "A celebration is a success only with the participation of people with heart, like our dear Oblates. What a fine group we were!"

Our thanks go out as well to the Augustinians who made the event happen by allowing us a place to gather; they joined in the celebration with us. Thanks as well to Rémi Piché who served as photographer providing us souvenirs of our gathering. Thanks to Louise and herfamily too who allowed usto be part of Cécile's place in the great Côté family. It was a true celebration for all who were present.
Testimonies collected by Raymonde H.