Items filtered by date: February 2021
Sunday, 28 March 2021 13:46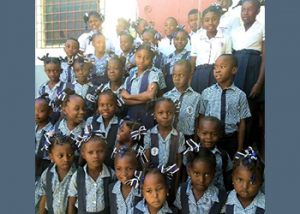 I thank the Lord for his love and kindness despite difficulties: the changes brought by the pandemic and the socio-political situation of the country. The Creator has given me the joy of living my consecration in the midst of the world. Join me in giving God glory.

We have just experienced a period of instability caused Rosa Poblete's resignation as regional councilor for health reasons. Given the lack of availability of some of the companions to take on this task, we rejoiced at the election results: God has just refreshed our hearts when Lastenia Parra Flores, who, like Rosa, is from Chile, agreed to take on this service.

In order to make the Institute better known in the northern part of Haiti, especially in the city of Cap-Haitien, a member of the team, Rose-Marie Ménard, had the idea of a establishing a school that would bear the name of Saint John Paul ll. The team members welcomed the idea. The Oblates are already involved in the management of three schools: the mixed Divine Providence School in Port-au-Prince, the Mgr. Darricardes School in Bahon in existence for over 60 years and the Notre-Dame de Fatima School in Tiburon. The opening of the new school, their fourth, will take place in September 2021. My dear companions, you are all invited to carry this project in prayer.

We are currently reflecting on the proposals of two mission statements of the Institute that we will be working on during the next General Assembly. I invite you all to call on the Holy Spirit to illuminate our intelligence so that we can be faithful to the intentions of the Founder.

Marie-Cécile Printemps
on behalf of the Regional Council
Latin America-Caribbean Region
February 2021