Items filtered by date: August 2018
Wednesday, 19 September 2018 18:04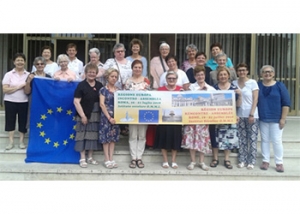 NOW I am doing all things new...

If the regional meeting kept its initial role of fraternal contact between us, it also had the mission to allow us to develop together the proposals to be given to the regional assembly for our new council.
The work provided was exemplary. An experience that no one will forget. The Spirit was very happy because smiles, laughter, wrinkled foreheads, sighs,... all of the necessary elements were present for us to do some good work.
The most astonishing, yet the most beautiful thing, what a marvel, was that each of us could experience the fact that not only do we belong to our institute but also to our region but we also felt responsible for it.
We are committed, with the new council, to progress and grow in our secular vocation within the Institute OMMI.
From left to right
1st line : Denise Desrochers, Maria Antonietta Serafini, Linda Lando, Rita Limongi, Marie Milan, Isabella Cavallo, Rita Serafini, Graziella Falbo,
2nd line: Giovanna Piscini, Jeannette Mougenot, Bérangère Flieller, Françoise Lequarré, Mado Riggaz, Maria Carmela Proietto, Elisa Bergamelli
3rd line: Maria Pascazio, Enrica Mazzucchelli, Marcelle Carton, Rita Frattin, Beatrix Bruhl, Annick François, Elisabetta Alberton
Anniversary of 40 years of Oblate life Rita Limonqi
From left to right:
Graziella Falbo, Rita Serafini, Maria Antonietta Serafini, Enrica Mazzucchelli, Jeannette Mougenot, Rita Frattin, Maria Carmela Proietto, Annick François, Denise Desrochers, Maria Pascazio, Rita Limongi, Elisa Bergamelli, Marie Milan, Mado Riggaz, Giovanna Piccini, Beatrix Bruhl, Linda Lando, Elisabetta Alberton, Marcelle Carton, Françoise Lequarré, Bérangère Flieller.
Absent: Isabella Cavallo
First council 2014-2018


Maria P, Annick F, Françoise L,

New council

2018


Giovanna P, Françoise L, Annick F,
New council
avec Denise Desrochers, prés.

Saturday, 01 September 2018 14:07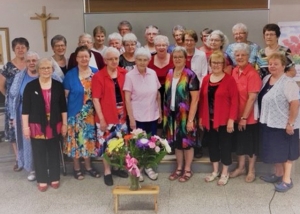 The North America East held its regional assembly July 30 to August 2.
Twenty-four participants were present in Quebec for the event – a fraternal time together.
The newly elected regional council for a three-year term, from left to right,
Martine, Marie (RR), Claire, Pierrette