Items filtered by date: February 2021
Sunday, 28 March 2021 23:46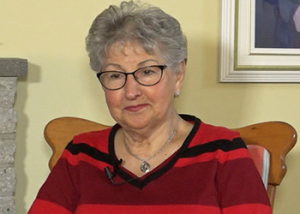 Time passes and I feel an urgent need to ask a great friend, who is suffering through a challenging ordeal, the permission to film her witnessing on video. Dare I ask? I take the risk and she agrees.

Surviving breast cancer is already a feat, only to learn that, after 30 years of active life, she has another: bone cancer, this time; a reality that is very difficult to fathom.

It is with simplicity and fortitude that Paulette Chénard opens her heart to us. What is the secret of her serenity in the midst of this illness? In what source is it steeped? Her testimony reveals the power of a life of faith and the experience of the loving heart of God which carry her forward in daily life.

You are invited to view this video produced by Louise Fleury, Volunteer of God, who interviewed Paulette Chénard, Oblate.

To view, click on the image. The interview is in French only.