Items filtered by date: June 2020
Thursday, 30 July 2020 22:08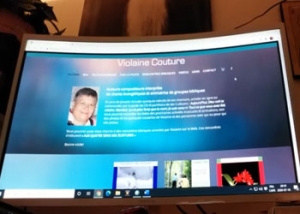 I have the pleasure of presenting you my refreshed website. I thank my technician, Mr. André Martimbault, for his good work.
You can now download the songs you want as well as my 5 albums with the song scores. The prices are listed.
Something new: you can subscribe to on-line biblical meetings, two hours every two weeks, AUX QUATRE SENS DES ÉCRITURES (The Four Meanings of Scripture), with live groups of 5 to 10 on the Webex platform.
Subscribers receive a link to the platform to click on at the time of the meeting.
Aux Quatre Sens des Écritures is a dynamic way of giving and receiving the Word by sharing on the various meanings in a specific biblical text. Visit the website for more information. The meetings will begin September 16, 2020.
Here is your link to the website: violainecouture.com.
View a short video explaining the content of the website and of the Aux Quatre Sens des Écritures meetings.
Vidéo promo Site Web 16 juillet 2020
(Website video Promo July 16, 2020)

To view a short video presentation of my own website, go to violainecouture.com It explains:

- how to download the songs, song scores and complete albums

- how to subscribe…
Looking forward to hearing from you one way or another.
Violaine C.