Items filtered by date: June 2020
Saturday, 25 July 2020 17:11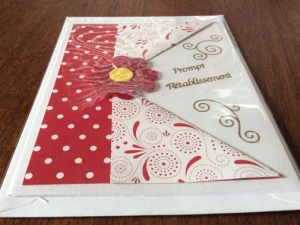 For years, as part of my professional function, I used crafts with many children of 4, 5, and 6 years of age to develop their manual dexterity and as a means to awaken their artistic creativity.
Over the years, much to my surprise, I have adopted the creative objectives, first, having evolved to joyful moments of creating greeting cards and, secondly, to donate the financial proceeds to our Oblate missions in need.
I am grateful to my companions who, over the past years, have supported me by ordering my cards, original and exclusive in design, for the pleasure of those to whom they were to be given.
Yes, warm THANKS to all who have made it possible for me to fulfill my two-fold objective of having established Handicraft Creations that, in turn, allows me to donate to social and humanitarian causes!
Claire T.
I use various techniques in creating my cards
| | | |
| --- | --- | --- |
| Permagano | Flowers soft | Iris Folding |
| Quilling | Embroidery | Decoupage |