Items filtered by date: November 2020
Monday, 21 December 2020 23:46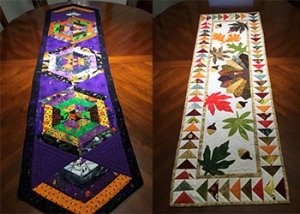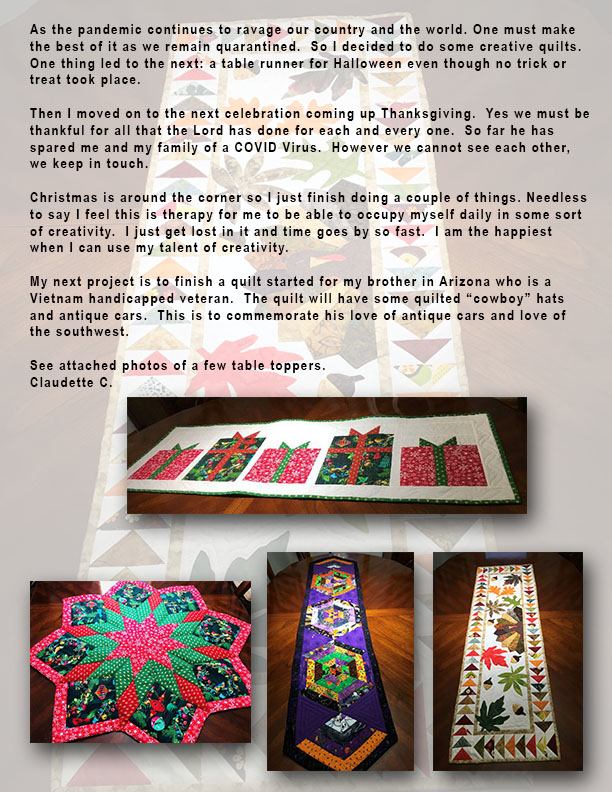 As the pandemic continues to ravage our country and the world. One must make the best of it as we remain quarantined. So I decided to do some creative quilts. One thing led to the next: a table runner for Halloween even though no trick or treat took place.
Then I moved on to the next celebration coming up Thanksgiving. Yes we must be thankful for all that the Lord has done for each and every one. So far he has spared me and my family of a COVID Virus. However we cannot see each other, we keep in touch.
Christmas is around the corner so I just finish doing a couple of things. Needless to say I feel this is therapy for me to be able to occupy myself daily in some sort of creativity. I just get lost in it and time goes by so fast. I am the happiest when I can use my talent of creativity.
My next project is to finish a quilt started for my brother in Arizona who is a Vietnam handicapped veteran. The quilt will have some quilted "cowboy" hats and antique cars. This is to commemorate his love of antique cars and love of the southwest.
See attached photos of a few table toppers.
Claudette C.