Items filtered by date: April 2017
Wednesday, 17 May 2017 20:19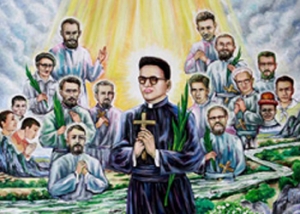 On April 30, in Trent, a Thanksgiving celebration was held for the beatification of one of the sons of this diocese, Blessed Mario Borzaga, OMI (1932-1960) and the catechist who was with him, Paul Thoj Xyooj (1941-1960). They were part of a group of 17 men who were martyred in Laos between 1954 and 1970 and who were beatified in Vientiane on December 11, 2016. 500 people gathered at the Trent Cathedral for the event.
To find a summary of what Lucia, an OMMI and sister of Blessed Mario said to Rivista missioni OMI in an interview, click here.
The priest at the center of the picture is Blessed Joseph Tiên (1918-1954). Blessed Luc Sy (1938-1979), one of the 5 Laotian martyred catechists was a married man from the Voluntas Dei Secular Institute, founded by Fr. Louis-Marie Parent, OMI who also founded the Oblates (OMMI).
The OMMI have been part of the Laotian Church since 1957. In an article published in Review of Oblate Life Oblatio 2016/2, Claudio Bertuccio, OMI pays tribute to their contribution in these terms : "[The catechists and consecrated women] have been the strong support of the faith of the people in times in which, in the whole country, bishops and priests were only a little more than a dozen", p. 380. "The Oblate charism in Laos".
To find the list of names of the martyrs, testimonies and liturgical texts click here.