Items filtered by date: August 2017
Thursday, 28 September 2017 14:29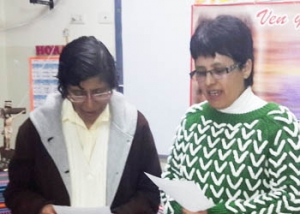 Saturday, August 25 near Lima, Peru, an event was held to make known our Oblate vocation, share our spirituality and present our associate group, the Volunteers of God.
Flor says, "It was a good event. Father Marco presented the Oblate vocation in general.
Maria then spoke about how she lives her oblate life, followed by my sister, Esther, a Volunteer of God, who witnessed to how the 5-5-5 helps her to live more deeply her role of wife and mother and her profession.
We ended with a time of sharing.
We hope to continue in this vein, seizing every opportunity to make ourselves known."
Having read what Flor has to say, you may want to:
support Flor's initiative through prayer – a gesture of solidarity
organize a similar event, with our help if you need it
share other ideas you may have to make the Institute known. Link contact-us