Items filtered by date: October 2017
Monday, 06 November 2017 20:51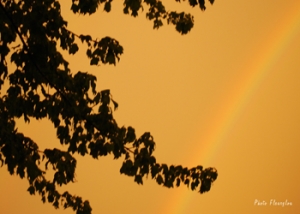 Six years ago a neighbor on my floor told me that she took time every day to read the Scriptures of the daily Mass from her Living with Christ. When her sight began diminishing, every morning, my eyes
afforded her this spiritual nourishment.
Eight months later she was admitted to a retirement home. During one of my regular phone calls she expressed regret that no one was available to pursue these privileged moments with her.
I said, "Listen, I think the Holy Spirit is speaking to me! Why not continue our daily mass reading over the phone?"
"What a good idea", she said, "would you do that for me?"
For the past five years, this has been such a powerful time for us that we have named that moment our "Radio Hope."
Through this mission sent by the Spirit, Christ lives within me through his Evangelization.
Mado Riggaz
Sunday, 05 November 2017 18:57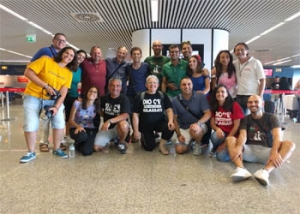 From July 16 to August 5, 2017, a group of young Christians from Cosenza, Italy went to Brazil for a missionary experience as participants in a pastoral project initiated by the Oblate Fathers (OMI). Graziella Falbo, an Oblate (OMMI) from the European Region was part of that missionary venture. The youth kept a journal which they had printed and shared with the supporters of the mission.
Here is the translation of a few extracts.The original in Italian, is available. Télécharger pdf 12 pages.
http://omivocacional.blogspot.ca/2017/07/se-ligue-na-programacao-da-missao.html
Father Carmine Marrone, OMI, explains how this project originated:
"It was July 16, 2016. I had just left Aix-en-Provence following the first world congress on Oblate vocations – ten days spent with the Superior General, Father Louis Lougen, and over 30 Oblates from around the world. Days of grace, intense confrontation and of contact where Eugene de Mazenod founded the congregation 200 years ago. Father Lougen, as the good, fatherly, passionate man that he is, stimulated us, encouraged us to dream and to think with the heart of Eugene. That is how the trip to Brazil was born…
God be praised, when we say yes, He does good things in our life. Life with God is truly a marvelous adventure.
I shared this dream with Graziella first, then with a few others."
Graziella continues the narrative:
"A mission to new frontiers! It is difficult to describe in a few lines the depth and light of the mission to Brazil. Father General's bible quote from Mark 9; 41 directed me to the will of God and, another verse, 'Since you are of Christ,' led me to our oblate attitude: Live in the presence of God.
Upon arriving at Sumarè daily life took a normal course. Act naturally we were told. The welcome I received from my host family made me feel at home; I belonged. I remembered the bishop's advice about the attitude to adopt, 'look and be open.' Brazil can truly say it won my heart. A country of contradictions; you cross the street to find a skyscraper in the midst of a favela, a museum suspended in mid-air with the homeless living beneath it. But it is a religious country; for the people, the incarnate God is close and walks among them. The faith of these people whose life is uncertain is a beautiful witnessing I take away with me ‑ such simplicity in the way precariousness is lived by those who count on God.
Something else I take away is the smile of the children 'in spite of all;' the smiling children of the favelas. I understood there the meaning of Jesus' words, 'Man does not live by bread alone. '
But the greatest blessing of all was to realize what a gift my missionary vocation is. The missions I have experienced these last nine years with the Cosenza community have been a grace from God and the Brazilian experience brought it all into focus. It is a glorious heritage to keep and remember. I have found that, in spite of the limits of each one in the group, in our desire to meet and live in God's presence, we are a missionary community, witnessing by the love among us that evangelization is a source of joy and life.
Lastly, it is the poor who evangelize us through their gestures, their eyes, their simple words and their love. The feeling I have in all our missions is that God is already there. He wants us to be generous and ready to let go. Then he can start building with us.
Thus a missionary experience to be continued… Graziella (OMMI, European Region)