Items filtered by date: May 2016
Wednesday, 08 June 2016 12:00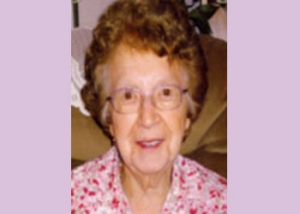 The story of my vocation, a childhood memory
I was in grade 2. One of the questions in the Little Catechism was, "Why did God create us?"
"He created us to know him, to love him and to serve him."
There were two nuns and an Oblate priest in my mother's family. They used to come and visit us every five years.
I would notice that my aunts go into a separate room to pray and that my father would drive them to Mass every day of the week.
As a child, I used to think, "If I become a nun, I will learn how to pray to God and how to love Him and serve Him better."
I do not know if this happened at about the same time but I remember saying to my mother, "If a man wants to marry me, shoo him away with the broom."
I kept hoping that my health problems would one day only be a memory. I would often say to God, "Why did you give me the desire but not good health?"
One day, at the Shrine in Beauvoir, I prayed and once again expressed my desire to God. "One day, if you need me, please let me know."
I kept looking for a religious community that would accept someone like myself who had poor health.
The religious communities had published a book called CHOOSE. I made enquiries. The answers that I received were, "You don't have sufficient good health."
One day, I had the pleasure of meeting Oblates in Sherbrooke. They told me about extern Oblates.
I wrote to Father Parent asking to be admitted as an extern Oblate and gave him a few details about my physical disabilities.
At that time, I thought that I had nothing to offer the Institute as an intern Oblate. Although I had the great desire to join, an essential condition was missing: that of being able to take part in works…

A year went by and I had not yet received news from Father Parent regarding my request. One day, he arrived at my mother's place and asked me to go outside while he spoke to my
mother. When I went back into the house, he said, "You are accepted. We'll be waiting for you." I was very surprised.
Father Parent said to me, "If you have the vocation, your eczema will heal." Some miraculous thing happened because this illness disappeared.
In 2000, I was hospitalized for atrial fibrillation. The doctor told me that I could no longer take medication such as aspirin while also taking warfarin.
I told the doctor, "I have severe headaches, if I quit taking medication, I will die of pain. If I cannot take warfarin, I may run the risk of paralysing."
The next morning, I was no longer in pain and this has been the case since the year 2000. I believe that there is a greater power than me who part of the solution.
I had been in the Institute for 18 months when I received life, a gift. I was appointed team leader of the Notre Dame des Ouvriers team in Montreal.
My first reaction was, "Father Parent doesn't know my limitations."
My second reaction was, "Perhaps Father Parent and Reine-Aimée have discovered aspects of my personality that I myself do not know."
I accepted and said to myself, "Nothing worse than failure can happen." The gift I received was… TO KNOW MYSELF.
I realize that I have good judgement and empathy, that I am serene and that I can handle difficult situations in a climate of peace and understanding.
Suffering is part of my daily life.
There is a greater power than me who gives me energy and hope.