Items filtered by date: June 2016
Saturday, 09 July 2016 16:27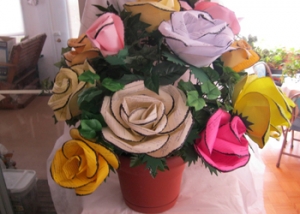 Mission to the very end
We all know that every sad or happy event in our lives is an opportunity for growth when lived with the Lord…. This is how my service in Haiti, among the Native People in Canada, in the Institute or elsewhere has opened the door to new experiences and growth in my life…
Here is a brief summary of the «last experience»! It all began in October 1991 when I was still working for the diocese of Trois-Rivières. I had prepared a dossier on Sunday psalms for those interested in giving Bible courses in their respective parish. It was intended for pastors, pastoral workers or committed lay people. Among interested people was a country priest who invited me for lunch one day to tell me about the success he was having in his environment and he also wanted me to visit his 4 parishes. He had suffered a heart attack a few years back and his health was in steady decline. He needed help. I accepted to meet him because I was interested in doing pastoral work In the future.
In February 1992, I started working 3 days a week as a pastoral worker in two of his parishes, one of which was St. Leopold in Hervey Junction…
In October 1993, a second heart attack forced the parish priest to retire. He kept the St. Leopold Parish, which he entrusted to me. He continued doing ministry work there on week-ends and I would make up for the work that needed to be done by attending various committee meetings, looking after liturgical preparations and the parish bulletin, being present at the cemetery and doing secretarial work before Masses, accounting, etc... At the time, I had also started 2 new groups of Volunteers of God. Whenever the priest was present, I would cook his meals and do secretarial work. I did so with joy because it allowed him to carry out his duties and to feel confident and secure.
Fr. Beaubien was a trusting person who could delegate. He was a man of prayer and we had a pleasant working relationship…
On June 23, 2015, he set off on his bicycle but he did not return. This was surprising because he was a punctual man… I sent a neighbour out to check and see if it was because of a flat tire. He returned, minutes later, to tell me that some people were trying to revive the priest on the side of the road. I ran out to tell them to stop their efforts because he had asked not to be revived should this ever happen to him: He was 86 years old… I learned that Father had died 15 minutes earlier…
Guess what happened next: Ambulance, police, personal shock and shocks in the parish. The funeral had to be prepared and I had to be present to those who were grief-stricken. The Bishop then appointed me to take charge of the parish and to do the necessary follow-up. What was I to do? How would I do it?
Approximately 15 years earlier, a survey had been made throughout the diocese revealing predictive diagnostics for our milieu. Now, the people would have to decide by themselves! With the help of other diocesan collaborators, we launched a consultation among parishioners asking them to weigh the pros and cons of the financial situation of the parish, the need to do upcoming repairs, the number of diocesan priests available, etc… There was a first vote by a show of hands, more reflections and community prayers… Then, at a meeting, a final vote was held: to close or not to close the church???
The parishioners decided to close the church for the following reasons: our church is situated close to two other churches; priests are rare, our small population is aging and major repairs will be required in the future. The parishioners would then be free to join a neighbouring church of their own choosing. At the opportune moment, there would be a Closing Mass. The vote was ratified by the Church Council and a resolution was sent to the bishop. What an emotional issue! The people had to deal with another grief…
I wanted the people to live this second stage with serenity… because it is difficult, very difficult to shut down a church where marriages, funerals, baptisms and various celebrations have been held over an 80-year period… It is a painful loss to demolish a church and to never see its bell tower as a bond of belonging when one travels around the curve of the road and not to gather there any longer to pray. The Spirit inspired me to make a proposal.
I gave each one a coloured page measuring 22 cm and 3 questions… On the drawing of a rose petal, they were to write: 1) my most beautiful memories in our little church… 2. The sorrows that I experienced in this church and the sorrow that I am now experiencing as we prepare to close the church… 3. If I could once again say one last word to my pastor (he had accompanied them for close to 50 years) this is what I would say: Ex. The time that… or thank you for …. or…
I explained to the people that I would make a bouquet of flowers with their answers: the bouquet could be large or small; it was their decision. I received approximately 60 answers and gathered them by color. I had to find ways of working with the stiff paper without tearing it. After several attempts on scrap paper I succeeded in making a beautiful bouquet. 7 petals were required to make one rose. The remaining papers were used to make flower buds. Then, I thought of all the people's relatives who had died… and made a rose containing the names of the people in the parish cemetery. This bouquet represented 50 years of all the aspects of their parish life. It was their names on the coloured petals and the names of the people who had died on the white petals to form a white rose!
At the Closing Mass on May 17, these flowers formed a beautiful bouquet. The left-over petals were used during the penitential rite at the beginning of Mass and the bouquet of flowers was offered at the offertory. A few years ago, I had embroidered a stole and this stole was placed around the pot to represent all the pastors who had served in the parish.
Even though the Closing Mass was on a week-day, the church was filled with people. They sang the songs in the souvenir booklet with all their hearts. The Bishop who presided at Mass was accompanied by two priests from the area. The universal prayer was one of "gratitude" that I wanted to express to the people and with the people… At the end of Mass, the Bishop read the Decree to desacralize the church as a place of worship.
Each household received a book-mark on which there was a summary of the life of their little church. The book-mark was rolled around a 6-day votive lamp. A lunch was served to end the day. The people lingered on afterwards to look, to talk, to reminisce and to take photos… What a wonderful and serene evening even though there were a few tears filled with nostalgia.
This time of grieving and of presence with the people of this Christian Community for over 25 years and especially during the past year, has helped me to listen, to be welcoming and patient when facing many setbacks and the permanent closing of a parish church. I am still learning how to explain delays, again and again, to those I accompany and who are tired… I realize how my previous life experiences and my 5 attitudes of life have prepared for what I am now living with these parishioner
Despite fatigue and overall tiredness on certain days, I feel profound peace that can only come from God. Please accompany us with your prayers for the "last miles".
North America East Region
Marie-Thérèse G. pastoral Agent and President of the Assembly
at St. Leopold of Hervey Junction, Diocese of Trois Rivières…Quebec