Items filtered by date: October 2017
Sunday, 05 November 2017 19:17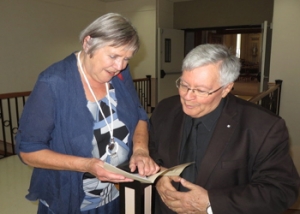 Living with the Inuit in Nunavik is the experience of a lifetime. I wanted to share it by integrating this part of Church history in a missionary context. From the time of my arrival at Quartaq in 1978 I was the keeper of all these documents for the Archives. After writing my first book, Jules Dion, Fifty Years Below Zero, I became aware that little is written about the life of missionaries. I have included the witnessing of many Oblate Fathers as well as lay persons in order to make known facts about accomplishments realized over the years.
The launching of my book Daring and Cold-Hardy Witnesses in Nunavik took place in Richelieu on World Mission Day, October 22, 2017. About eighty people were present to give thanks to the Lord for the acceptance of the Word of God by the Inuit.
I gratefully thank the Missionary Oblates of Mary Immaculate for having welcomed us in their dining-room for tea, coffee, juice and cookies. For those who wished, I autographed the copy of the book they bought. A day of abundant joy and thanksgiving for our whole missionary life.
Raymonde Haché