Items filtered by date: August 2016
Tuesday, 13 September 2016 16:19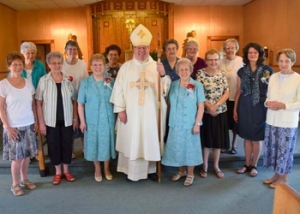 États-Unis –
For 20 years, the Institute in the U.S. has organized a summer retreat of one week at Marie Joseph Spiritual Center, coordinated by Beatrice Caron from Saco, ME. This year's theme was "The Mercy of God". Fr. Ron Labarre, a diocesan priest retired from active ministry, directed the retreat. Most Rev. Robert P. Deeley, J.C.D., Bishop of the Roman Catholic Diocese of Portland, Maine presided at the celebration of the renewal of vows. Vows in the Institute are renewed yearly with the determination that the gift of self to God be permanent; most renew around August 15, the Feast of the Assumption of Mary. At this year's retreat, the group included four who celebrated jubilees (60, 55, 35 and 30) and four women who are not involved in the Institute. The Diocese of Portland sent a news release the day after the event:
Reproduced with permission from the Roman Catholic Diocese of Portland
Oblate Missionaries Renew Vows during Mass Celebrated by Bishop Deeley on August 29 in Biddeford.
August 30, 2016

BIDDEFORD---"Outwardly, our life is like an ordinary person, so if anybody sees us, we do the same things. We live in the same kind of situations, but the intentionality is very different. We have a spirituality that we live," said Anita Plourde from Lewiston.
Members of the Oblate Missionaries of Mary Immaculate, including Plourde, renewed their vows during a Mass celebrated by Bishop Robert P. Deeley at the Marie Joseph Spiritual Center in Biddeford on Monday, August 29.
To read more: Dowload
Saturday, 10 September 2016 16:22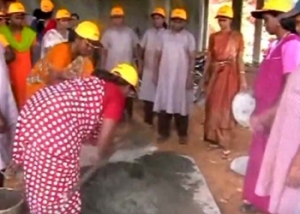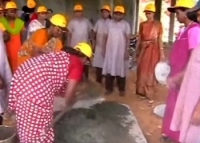 An article by this title was published in Deepika, a daily newspaper in Malayalam, by Reji Joseph on Feb. 28, 2016. It shows why and how Thresiamma Mathews and Archana Women's Centre train women as masons, carpenters, electricians and plumbers.
(Download the English translation of Homemakers become House Builders) Dowload
(Archana Women's Centre breaking bastions: building lives - video) : https://www.youtube.com/watch?v=xQzeRM-PtPE#t=296.7762459
Next year for the first time, a Delegation of US Tradeswomen shall travel to India and visit Archana Women's Centre and other organizations. The visit will be from Jan 22-Feb 5. See echoes of an earlier visit:
"Two days in Kerala" https://tradeswomenbuild.org/2016/03/18/two-days-in-kerala/
See the video in French: click on the image